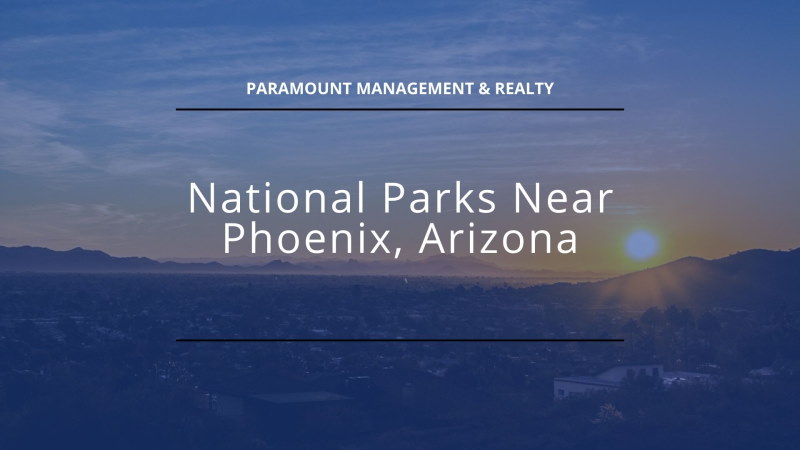 Do you want to explore national parks near Phoenix, AZ?
Phoenix is a desert city known as the "Valley of the Sun". Many people visit this city in order to escape the snow and ice in their hometowns. But if you're doing an extended stay, you may be interested in heading out to some of the national parks in Arizona and beyond.
In fact, there are numerous amazing national parks less than eight hours' drive away from Phoenix. Some of the parks are out of state, making these great options for anything longer than a day trip. This is especially true if you are looking to get inspired as a future resident or property investor in Arizona.
We here at Paramount Management & Realty have gathered this list of the top national parks near Phoenix. Keep in mind that some of these destinations work only as multi-day trips because they are more than 5-6 hours' drive from the Phoenix area.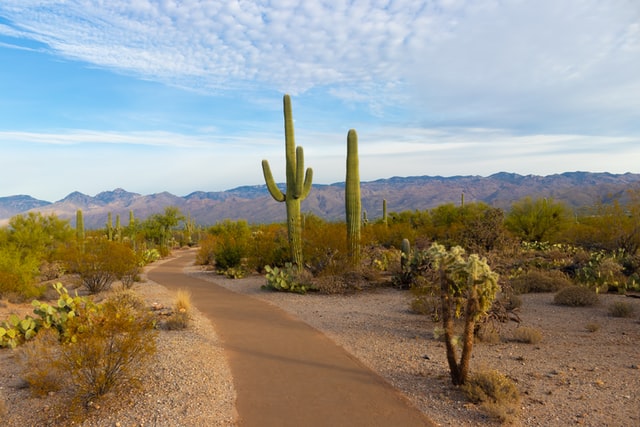 #1: Saguaro National Park
The drive from Phoenix to Saguaro National Park takes a little under two hours. This national park is located very close to Tucson in southern Arizona. Its name comes from the legendary Saguaro cactus, the largest wild cactus in the country.
There are quite a few great drives and hikes in this park. One of these is the Bajada Loop Drive. It is a graded dirt road, about 6 miles long. There are nice viewpoints along the way. But keep in mind that the path could become blocked after heavy rainfall.
Hikers can enjoy the Valley View Overlook Trail, which is a little bit less than a mile-long hike. The density of these fascinating cacti is very high around this hiking trail. The terrain is flat and suitable for both adults and kids.
#2: Petrified Forest National Park
If you're looking for national parks close to Phoenix Arizona, this is a good one. Driving to Petrified Forest National Park takes around three-and-a-half hours. It is one of the three national parks located in the state of Arizona. It is the only national park in the US that has a section of the Old Route 66.
The petrified trees in the park are hundreds of millions of years old. These are the remnants of lush and fertile land that used to have rivers. The fallen trees mineralized before dinosaurs roamed our planet.
The northern half of the national park features the colorful red landscape of the Painted Desert. The southern portion of this park has the highest accumulation of the petrified wood.
Compared to America's major national parks, Petrified Forest NP isn't that large. Most people feel that one day is enough to explore all of its highlights.
The park is open from 7 am to 7 pm, but there are seasonal exceptions. Always check the latest hours of operation.
#3: Grand Canyon National Park
Grand Canyon is astonishing, to say the least. This is one of the most legendary national parks in America, it has undeniable fame around the world, and it's less than a 4-hour ride from Phoenix.
According to statistics, the average visit to the park hovers around four hours. However, you could do so much more than just visit the main viewing platforms: There are hiking trails, river trips, helicopter tours, and numerous other activities in the area.
It's recommended to visit the viewpoints at dawn or just before sunset. The landscape constantly changes during these moments of the day, when the light strikes the landscapes under different angles.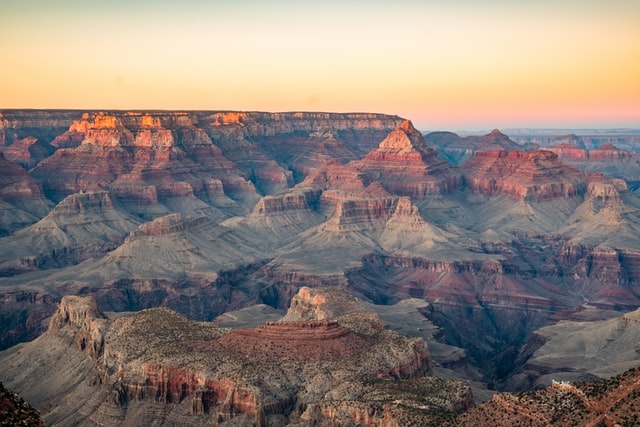 Another great activity in the Grand Canyon is stargazing. There is no light pollution, which makes this nighttime unforgettable. The peak event is called Grand Canyon Star Party, and it's held annually in early June.
#4: Bryce Canyon National Park
Bryce Canyon National Park is about a seven hours' drive from Phoenix. This scening park offers astounding views to the rocky terrain located in Utah. It's open all year round and features natural amphitheaters with countless rock pinnacles that are called "hoodoos".
Many people opt for a 20-mile drive through the park, making plenty of stops along the way. When visiting Bryce Canyon NP, you should definitely enjoy the sunset, sunrise, or both. These are the times when the red rocks start glowing in the most alluring spectacle.
This is a popular hiking destination as well. There are numerous trails that are great for any fitness level. The shorter ones cover the upper areas with scenic viewpoints, while more challenging trails are located deeper inside the canyon.
Horseback riding is a fun option, too. Some visitors ditch their cars and get a guided horseback ride through the canyon area. Others are prepared well in advance, and arrive with horse-trailers to ride their own horses in Bryce Canyon.
What Other Parks Should I Visit?
Here are some notable national parks outside of Arizona that are worth a trip:


Joshua Tree National Park. The meeting point of two types of deserts: Colorado and Mojave. It's home to the surreal-looking Joshua trees that bring in visitors from all across the nation.
Arches National Park. This national park features over 2,000 stone arches, honeycomb formations, sandstone lumps, and many other landforms.


In Short: National Parks near Phoenix, AZ
Arizona itself has three national parks: Grand Canyon NP, Saguaro NP, and Petrified Forest NP. Grand Canyon is the most famous one, with the influx of many visitors from all over the world every year.
Saguaro National Park is devoted to the iconic Saguaro cactus, which grow in the park. Petrified Forest National Park has wooden formations from hundreds of millions of years ago.
In addition to these Arizona national parks, you can also drive to Arches NP, Joshua Tree NP, and Bryce Canyon NP that are located out of state. Since these parks require a longer drive, visiting them from Phoenix is only viable as a multi-day trip.