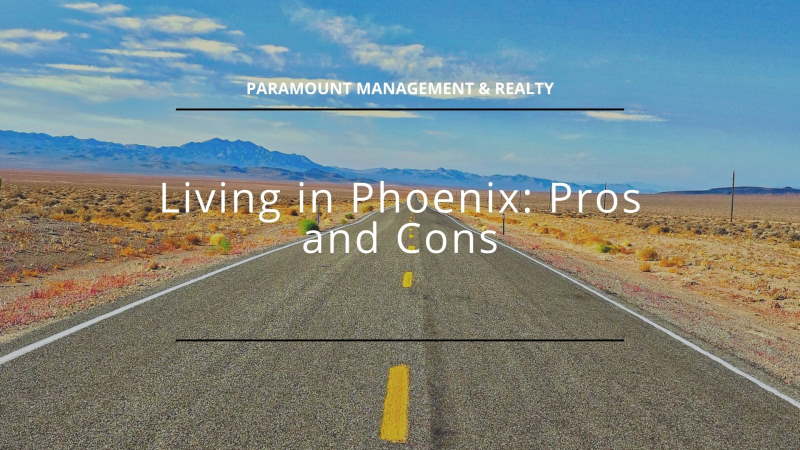 Phoenix, Arizona is known for many things, including championship golf courses, 33,000 acres of desert preserves, luxurious spas, Southwest dining, outdoor activities and outstanding hotel resorts with desert gardens and elaborate pools.
Additionally, Downtown Phoenix (also called the Valley of the Sun) is home to some great architectural features, thanks to one of the city's most well-known residents – Frank Lloyd Wright. The Taliesin West, the David and Gladys Wright House, and the First Christian Church are among a few of his talented works in the area. He lived there from the late 1920s until his death in 1959.
If you are considering moving to Phoenix Arizona, we here at Paramount Management & Realty have written this article for you. The following information will give you an overview of what to expect while there.
Pros of Moving to Phoenix, AZ

Pro #1: The Weather
The weather in Phoenix is absolutely beautiful. July is the hottest month of the year, and you can expect the temperature to reach an average high of about 106 Fahrenheit in the valley. December, on the other hand, is the coolest month of the year in Phoenix, and the temperature can average a low of about 45-degrees Fahrenheit.
On average, living in Phoenix means you should expect to experience 299 days of sunshine per year. In contrast, the rest of the U.S. averages about 205 sunny days per year. And while the snowfall in country averages 27.8 inches, it's 0.0 inches in Phoenix. Yup, zero!
Pro #2: Job Opportunities
The Greater Phoenix Economic Council continues to put in measures that make Downtown Phoenix attractive to investors. For instance, the city has put in place competitive incentive programs, lowered the taxes, and removed a lot of red tape.
In fact, did you know that the state's job growth ranked 2nd in the country in 2019? That's right, Arizona added 84,400 jobs between December 2018 and December 2019. This is according to new data from the U.S. Bureau of Labor Statistics. Phoenix is one of the major hubs for this job growth.
According to the Bureau of Labor Statistics, the following are the top 10 employers in the city of Phoenix:
JPMorgan Chase & Co – 10,600 employees
Apollo Group Inc – 11,000 employees
Arizona State University – 11,185 employees
Maricopa County – 12,792 employees
Bank of America – 13,300 employees
Wells Fargo – 13,308 employees
City of Phoenix – 15,100 employees
Banner Health – 24,825 employees
Wal-Mart Stores Inc – 30,634 employees
State of Arizona – 49,800 employees


Pro #3: Home Prices/Cost of Living in Phoenix Arizona
Living in Phoenix means a high quality of life, though how affordable homes are in Arizona depends on where you currently reside. The median listing price, according to Zillow, of a home in Arizona is $299,900. In California, the median listing price is $615,090, while in Arkansas it is $128,800.
You can use Zillow to compare your existing city with that of Arizona.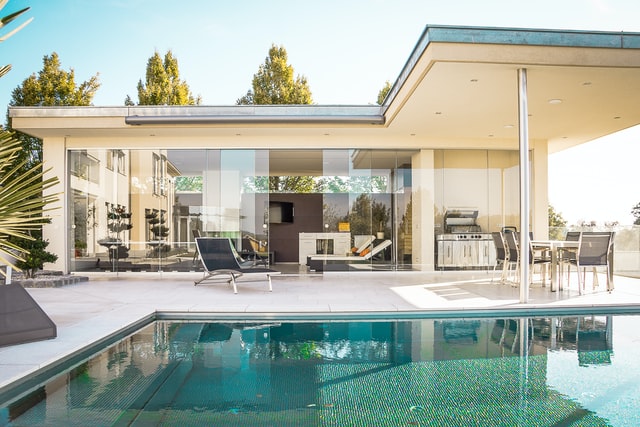 Pro #4: Taxes
Again, depending on where you live, this can alone could seal the deal for you. According to Kiplinger, Arizona ranks among the best 10 tax-friendly states in 2019. The $10,000 limit on deductions for tax payments comes as a major incentive for people to move to the sunny state.
In Maricopa County, which is located in the Greater Phoenix Area, the property tax is just 0.802 percent of the Home's Assessed Value. The national average is 1.211 percent.
If you consider, for example, a $250,000 house, then the difference could run into thousands of dollars in annual property taxes. This means that, when you live in Phoenix, the cost of living is normally low.
Besides the relatively low property taxes, Arizona is also moderately tax-friendly for retirees. Social Security isn't taxed at the state level. Also, older renters aged 65 and above and who earn $3,750 or less are eligible for a property tax credit.
Pro #5: Infrastructure
If you want to live in Phoenix Arizona, you'll be pleased to know that Phoenix is easy to navigate, and is a modern, well-planned city. The freeway system is extensive and devoid of any toll roads. And, even with millions of residents, the city is surprisingly uncongested.
The commutes may be lengthy, but traffic jams are usually a rarity. And even when you encounter one, there is almost always an alternate route you could take.
Pro #6: Interconnections
Phoenix is also well connected to the rest of the country. It is home to Sky Harbor, an international airport that serves many airlines and domestic routes. Airfares also tend to be real bargains thanks to Mesa-Gateway, a feeder airport.
Don't prefer to fly? If so, you'll be pleased to know that Phoenix is also within a reasonable driving distance to major cities such as Las Vegas, Los Angeles, and San Diego.
Cons of Moving to Phoenix, AZ



Con #1: Politics

Many people choose to live where their political beliefs are commonplace. If this is you, you should know that from a political standpoint, the state leans towards conservative values. Phoenix is slightly more liberal, however. When it comes to spirituality and labor unions, it's somewhat moderate. Still, the city tends to lean towards the conservative spectrum for law enforcement, immigration, and spending.
While polarization isn't as comparable to the rest of the country, you'll find a growing lack of diversity as people tend to associate themselves with close friends and family.
Con #2: Sunshine
The bountiful sunshine in the state can get tiring over time. Actually, residents often find cloudy days to be a welcome relief. When it rains, there is usually an interruption to the usual routine as people try to adjust to the weather changes.
When it gets too hot, people begin to make their way into the mountains. And, when it's cold in the north, many people head south into the valley to escape the punishing cold weather conditions.
Con #3: Heat
Being part of the Sonoran Desert, the summer months can be brutal. From July to August, the temperatures averages at about 106 degrees Fahrenheit. Generally, the 70s won't be in sight until November. By the time April approaches, the temperatures will have begun to rise again, averaging 80 degrees once again.
Con #4: Desert Conditions
If you are a fan of lush lawns, forests, or tall, green trees, then moving to Phoenix AZ might not be the best option for you. Because of the heat, much of the area is low desert, with plenty of palm trees, sand, and cacti. Outside of Phoenix and other cities, you won't see much green. However, Phoenix is home to the desert botanical garden which you can visit to feel more connected to nature and the outdoor environment.
Con #5: Transportation
Phoenix ranks low when it comes to walkability, most people traveling by car. In fact, it was ranked 29th out of the 30 largest metro areas in the country in regard to walkability. It's best to own a car if you're moving to this city. What's more, only a mere 3 percent of companies operating in phoenix were considered friendly for employees who'd prefer walking to work. Still, the downtown public transport system is well-run, the Light Rail being highly convenient and affordable.


So, is Phoenix a good place to live, work and play? Well, it depends on what exactly you are looking for. Hopefully, the pros and cons listed here will prove useful in helping you make the right decision.
Make sure to read our article on the best neighborhoods in Phoenix to help you plan your next move!